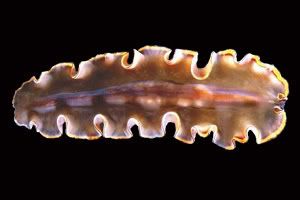 They are consisted of two phyla of wormlike animals:
phylum Platyhelminthes (flatworms) and phylum Nematoda (roundworms).
The members of the phylum Platyhelminthes (platy means flat and helminth means worm) are the simplest animals with bilateral symmetry. Most of them exhibit enough cephalization, or development of the anterior end, to have a head. Flatworms also have more developed organ systems than either sponges or cnidarians.
Members of the phylum Nematoda, are among the simplest animals to have a digestive system with two openings - a mouth and anus. Roundworms range in size from microscopic to a meter in length, and may be the most numerous of all multicelluar animals.
Due to their feeding methods,
flatworms
are put into three major classes:
Class
Turbellaria
: free-living flatworms. Most familiar members of this class are planarians, or the "cross-eyed" freshwater worms, they are found in moist tropical areas.
Class
Trematoda
: parasitic flatworms known as flukes. They can be external or internal parasites and life cycles always involve with at least two different hosts. Pattern of multiple hosts is typical for most parasites.
Class
Cestoda
: long, flat parasitic worms usually attach themselves to the intestinal walls of the hosts. They have a head called a scolex on which there are several suckers and a ring of hooks.